Home
> Activities & Awards
Activities and Awards

Join in with FISTS, including FISTS Activities and FISTS Awards. Look out for members on and around the FISTS Frequencies. Meet us at amateur radio rallies.
FISTS Frequencies
Members are encouraged to meet up on and around the
FISTS frequencies
at any time and contact both members and non-members (a non-member is a member who hasn't
joined us
yet!).
Please visit the
FISTS Frequencies
page for the list of frequencies.
FISTS Activities
The
FISTS Activities Calendar
gives details of on-air activities such as the twice monthly
Ladder
and the annual
Straight Key Week
. These are friendly, relaxed and fun. They do
not
consist of exchanging
599001 TU
! You are encouraged to submit logs and scores but this is optional. Even if you're not in the least competitive, it's still worth coming on to meet other members - they will be happy to exchange name etc. with you. Results are published monthly in Rob M0BPT's
BrassPounder
newsletter.
For a current list of activities, please see the
Activities Calendar
page.
Results for all activities are available from the
Activity Results
page.
FISTS Awards
FISTS offers a variety of operating
Awards
, available to both members and non-members. One of the most popular is the
Century Award
. For the initial award you need 100 points, earned by contacting other members (1 point for a member in your country, 2 points for outside your country with extra points available for
National Club Stations
).
Please visit see the
Awards
page to see the full list of operating awards.
Rallies
We visit a number of Amateur Radio Rallies. Below is a selection of photographs from the rallies.
National Hamfest 2013 (UK)
We visited the
National Hamfest
in September 2013. With the help of a special offer, we recruited 43 new members and 16 former members re-joined.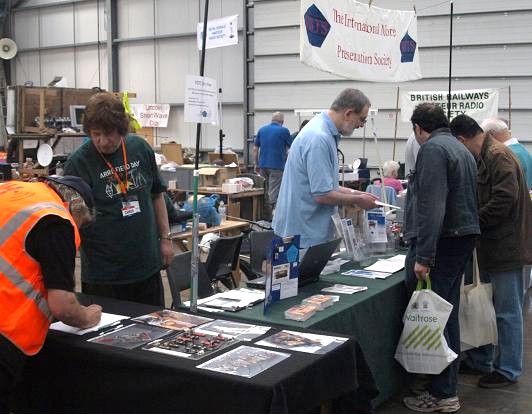 Chris G5VZ (left) signing up a new member and Graham G3ZOD (light blue tee-shirt) talking to Robert 2E0FXT.

Thanks to Nigel G0BPK for the photograph.

NARSA Norbreck Rally 2011
We visited the
NARSA Norbreck Rally
again this year on Sunday 6th April. This was another successful day for us, meeting current and new members and, like last year, on a gloriously sunny day. Sadly none of Blackpool's famous trams were seen though due to maintenance work on the tramway.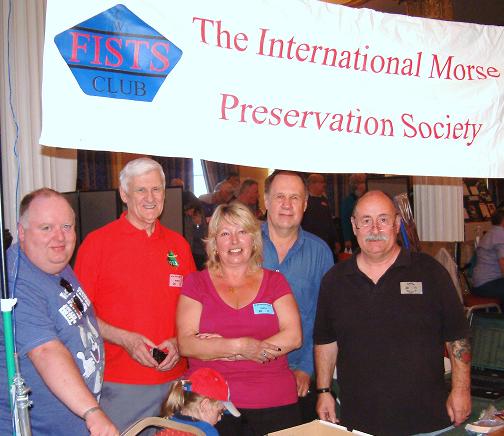 Shown from left to right are Paul M0BMN, Roy G4SSH, Gillian M0BTG, Terry G0PIL and John M0CDL.

NARSA Norbreck Rally 2010
We were at the
NARSA Norbreck Rally
(Blackpool) on Sunday 11th April. This was extremely busy, especially during the first few hours, and the FISTS stand had lots of visitors.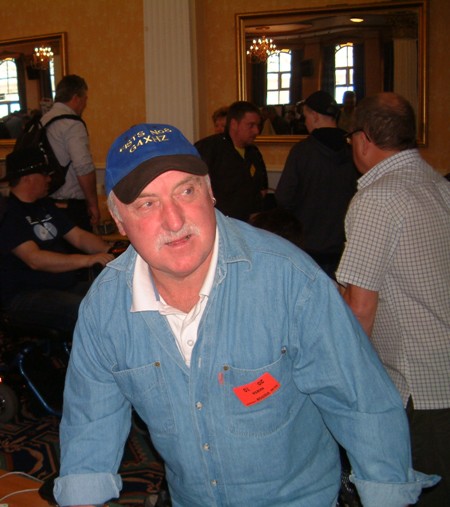 This is Frank G4XHZ #8, who has the earliest FISTS number allocated to a current member. Frank served as FISTS chairman and vice-chairman for many years.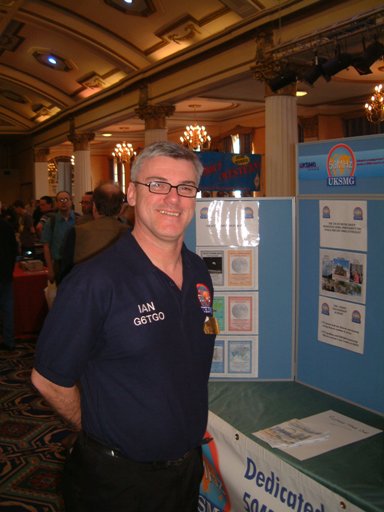 Notice the light fittings and decor of the hall (the smaller of the two used). Definitely up-market for an amateur radio rally!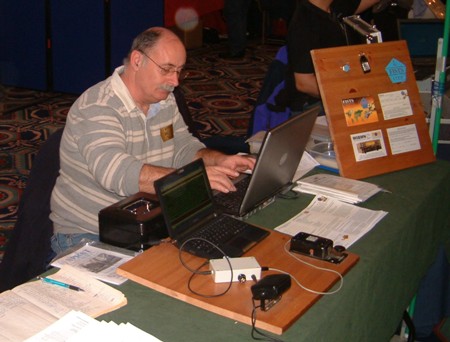 John M0CDL #5592 (Membership Secretary) was kept very busy dealing with new members, renewals and sales of the FISTS Morse Course.
The picture also shows the straight-key and decoding computer. As usual this proved very popular. A number of people asked what the software was; it's
CwGet
, which is a shareware program.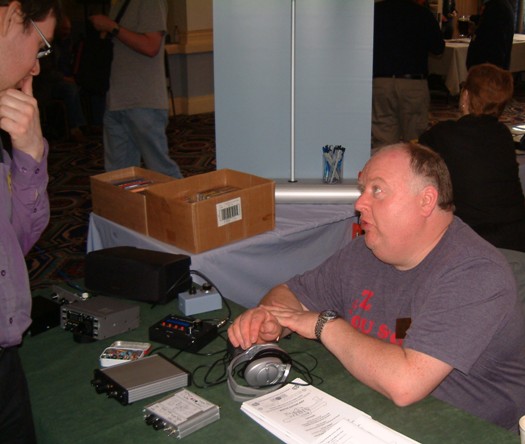 Paul M0BMN #5533 (ex. Key Note editor) is shown here discussing the extensive collection of QRP (low power) CW transceivers he brought.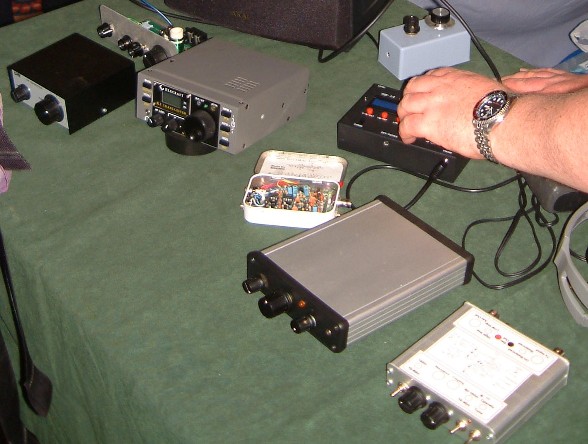 Running from top left to bottom right, the equipment shown is a Small Wonder Labs
SW-80+
(black case with white panel), behind it the open chassis is a Hendricks QRP Kits
Scout Regen Receiver
, Elecraft
K1
, Small Wonder Labs
Rockmite
(in white Altoids tin), behind it being operated by Paul is an BD4RG
HB1A Mk. II
, not sure what the grey case with the black end panels is and finally, a ZM4 (Z match) ATU.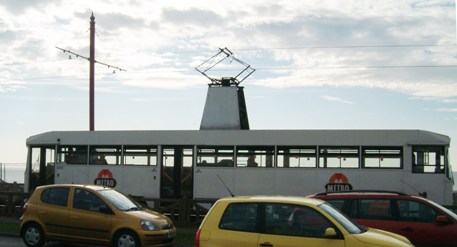 Blackpool is a seaside resort on the North West coast of England. Taken from outside the rally venue, this shows one of the features it's well-known for - an electric tram. These provide a service for several miles along the sea front. Blackpool is also notorious for wet and cold weather, but the day of the rally was warm and sunny.

Leicester Amateur Radio Show 2009
We were at the Leicester Amateur Radio Show (actually in Loughborough) on Saturday 12th and Sunday 13th September 2009. It was great to meet up with existing members and others there. Paul M0BMN's "hands on" exhibit with a straight Morse key connected to a computer decoding the sending proved irresistable to many people. Some had trouble getting it to decode their sending, but for others it worked 100% (enough said!). His beautifully made QRP rigs generated a lot of interest too. For more information, see Paul's QRP Rigs.
Here are some photographs taken on Sunday.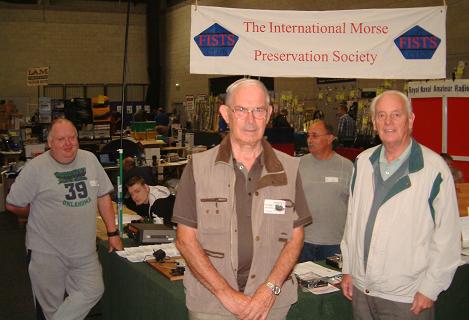 From left to right, Paul M0BMN, Rob M0BPT/JNR, Alf G3UAA, John M0CDL and Keith G3KYF.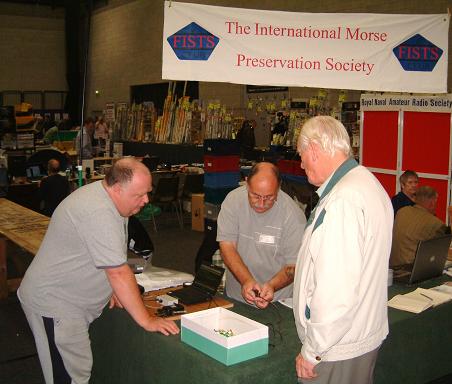 From left to right, Paul M0BMN, John M0CDL and Keith G3KYF discussing a tiny Australian straight key.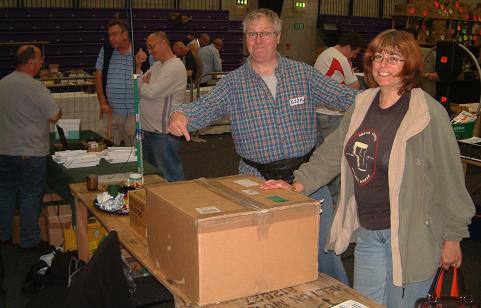 In the foreground, Tony G3ZRJ and XYL Sally. No prizes for guessing what might be in Tony's box! In the background is John M0CDL, not sure who the centre gentleman is and to the right possibly Rob M0BPT (?).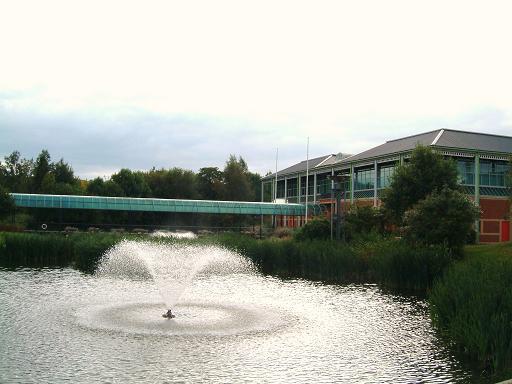 The campus at Loughborough is huge and a lot of it is very attractive. The photograph shows the area adjacent to the main car park.
Rallies in 2008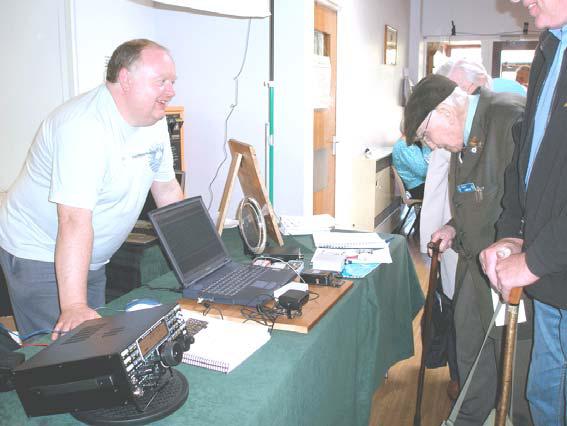 This is from the Yeovil 24th QRP Convention with Paul M0BMN behind the table.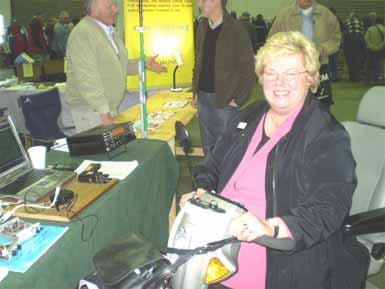 Mary G0NZA at Donnington 2008.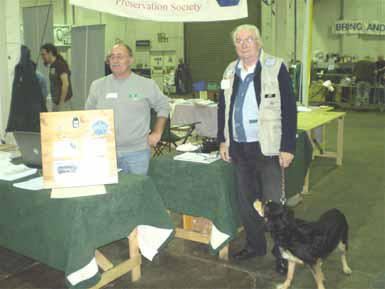 John M0CDL, Derrick M0BDD and Derrick's four-legged friend Peggy, at Donnington 2008.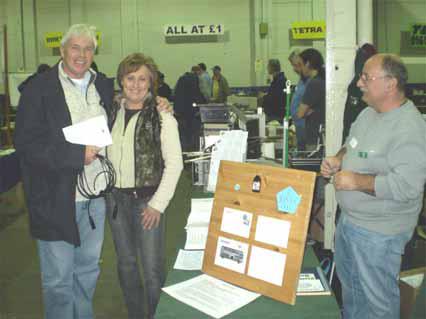 John M0CDL recruiting at Donnington 2008.
Rallies in 2007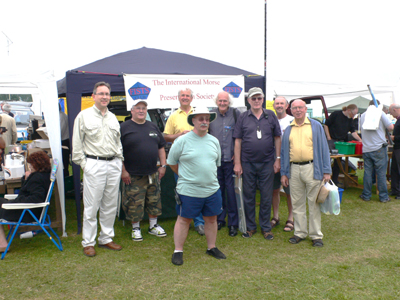 This is from Elvaston Castle 10th June 2007, FISTS' first outdoor show and a great day out it was. If anyone can shed any light on who the others are in this photograph (or any others on this webpage page), please let me know: .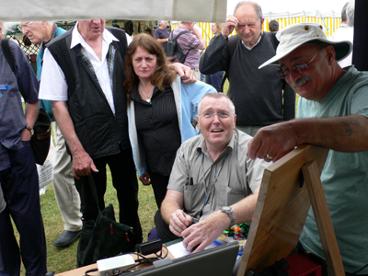 Another photograph from Elvaston Castle with Brian G4TDO centre front and John M0CDL on the right. Brian taught Morse at Wombourne College in the days of the 12 w.p.m. Morse test. Amongst his pupils were some well known FISTS names: John M0CDL, Mark M0BLT, Paul M0BMN and Rob M0BPT! Brian also held classes for the RAE (Radio Amateur's Examination).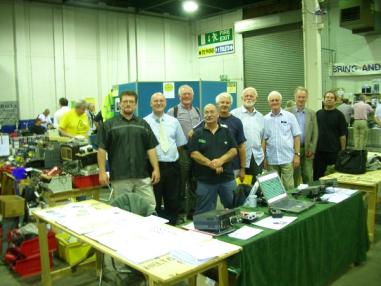 This is from Donnington in 2007. From left to right: Mark M0BLT, Rob M0BPT, Roy G4PRL, John M0CDL, Peter M5ABN, Bob G6GUN, Derek M0DRK and two unknown people.
Rallies in 2006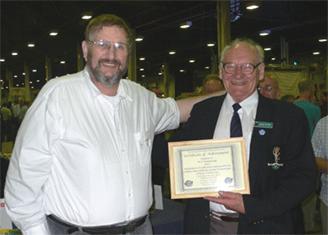 Practical Wireless's Editor Rob Mannion G3XFD at Leicester presenting Peter G4LHI with his award on behalf of FISTS and the amateur movement in general, recognising Peter's 25th year of teaching students the art of Morse Code.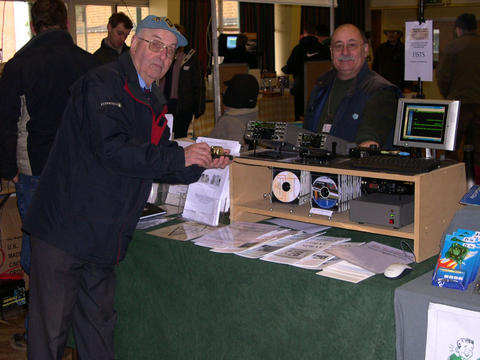 This one is at the Wythall Radio Club Rally in Birmingham on the 12th March 2006. FISTS member Stan G0BYA is having a play with Paul's K2! Behind the desk is John M0CDL.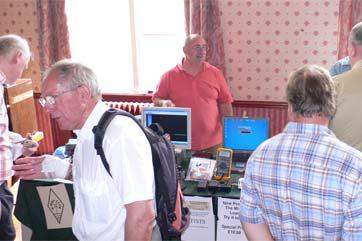 This is at the Red Rose Rally. John M0CDL is behind the desk.
Back to
Home
page